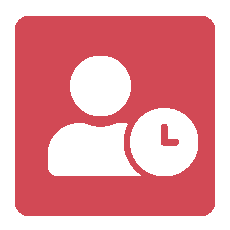 ClockingApp is the software that allows you to comply with the Labor Regulations for the control of workers' hours. It is perfectly integrated with Ategest, so they share the same data of your employees.
Who is affected?
Todas las empresas deben contar con un registro de control de la jornada laboral efectiva de sus trabajadores.
When does it take effect?
Desde el 12 de Mayo de 2019 para TODAS las empresas Regulado por el Real Decreto Ley 8/2019.
What happens if I do not have time control?
Será motivo de sanción por falta grave cuyo importe puede ir de 625€ a 6.250€, according to the number of workers or the turnover of the company.
Delivery of the monthly summary to the worker
Keep monthly summaries for four years

Control input and output from a mobile device
El Sistema de Control de Presencia

Para que sirve
Gracias al sistema de control de presencia su empresa dispondrá de una valiosa información que le permitirá conocer, por ejemplo, las horas trabajadas, los retrasos, calendarios, el cumplimiento de los horarios laborales, además de aumentar la productividad de sus trabajadores y en consecuencia la de la propia empresa.
Una inversión rentable
Un sistema de control horario para trabajadores aporta valores añadidos que hacen que la empresa comience a rentabilizar su control de personal desde el primer día. Más allá de lo evidente, el tiempo perdido de los trabajadores, un control de presencia disminuye el tiempo y el número de personas que, en departamentos como Administración o Recursos Humanos, se dedican al control y a la gestión de los propios trabajadores: nóminas, horas extras, vacaciones, calendarios y turnos.
Aumente su competitividad
Llegar habitualmente con retraso, tomarse más tiempo del estipulado para el desayuno, realizar gestiones personales en horario laboral, marcharse antes de la hora de salida…
Implantando un control de presencia conseguirás eliminar las malas prácticas de sus trabajadores y evitar que contagien al resto. Aumenta el compromiso y la productividad de su plantilla haciendo su empresa más competitiva.