One more year, the Innobonos arrive, a subsidy that comes to give you that boost you need in terms of technological investment and digitalization.
How can it help you?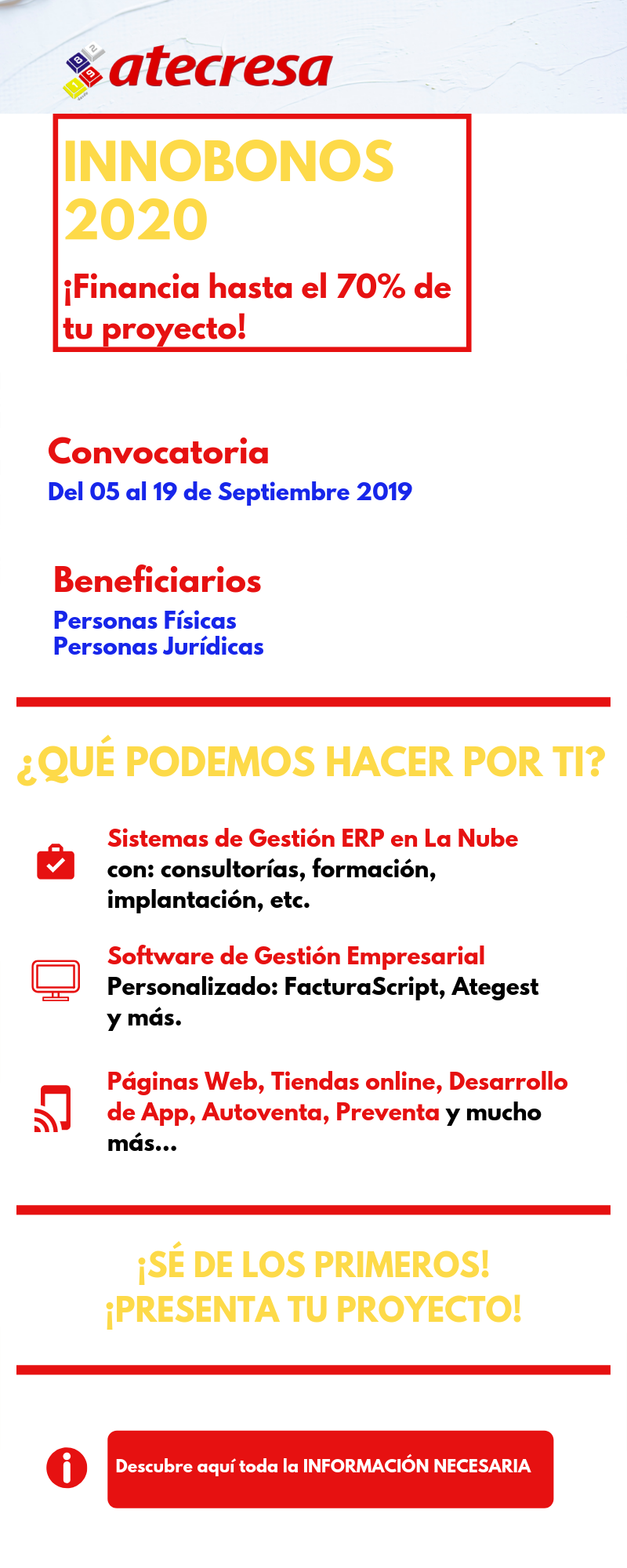 To finance up to 70% of your project
Finally, decide on an ERP management system in the cloud
To bet, once and for all, for that business management software that your local cries out for.
To develop the app you thought, the website you needed or the online store you were plotting.
Who can take advantage of them?
The beneficiaries of the innobonos are both natural persons and legal persons who have in mind to develop a technological innovation project.
How long can I submit the application?
There are two calls: from September 5 to 19 and from December 1 to 15. The first phase has a budget of € 2,000,000 to exhaust, while the second has € 100,000.
What is the maximum amount I can get?
The maximum cost per eligible project is € 20,000, except those related to electronic commerce and digital marketing or the development and implementation of apps, which have a maximum of € 12,000.
Of that amount, they will receive a maximum of 70%.
When do I have to start it up?
If your project is subsidized, you can start it from January 1, 2020. The execution and justification of them will be 90 calendar days, counted from the date of acceptance of the subsidy.
What else should I know?
In Atecresa we believe that Innobonos are a unique opportunity to improve your business and that is why we are willing to help you. If you are interested, do not hesitate to ask us for more information here.
Eligible services:
Service 1 Implementation of business management solutions.
Service 2 Development of online strategy in the company.
Service 2.1 Electronic commerce and digital marketing (max. € 12,000)
Service 2.2 Development and implementation of mobile applications (max. € 12,000)
Service 3. Knowledge transfer
Service 4. Advice on R + D + i Management.
Service 5. Advice for the preparation of proposals for R&D projects and national or international calls.
Service 6. Incorporation of innovative ICT technologies to the company.
 Service 7. Industry 4.0.